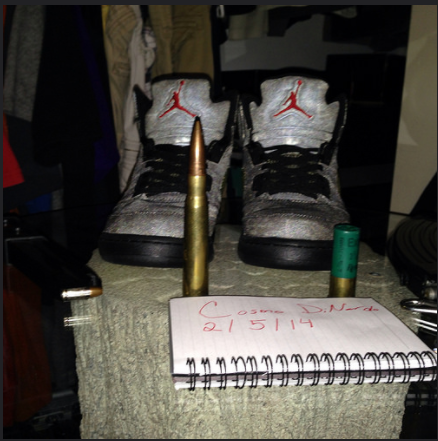 Both men have been charged with criminal homicide in the murders of 22 year old, Mark Sturgis of Pennsburg, 18 year old Dean Finocchiaro of Middletown, 19 year old Jimi Patrick of Newtown and, 21 year old Thomas Meo of Plumstead.
Bucks County District Attorney Matthew Weintraub said that the remains were located in a makeshift grave that was nearly 13-feet deep on the property.
The details were provided after one of DiNardo's lawyers said Thursday that DiNardo had confessed to killing the missing men and told investigators where their bodies were located.
The four young victims, who went missing last week, were lured to the remote property with promises of buying marijuana, but they were shot and killed, and buried in graves dug by a backhoe, according to the Bucks County, Pennsylvania, district attorney.
DiNardo allegedly shot and killed 19-year-old Jimi T. Patrick first, on July 5, and he is believed to have acted alone in that murder.
On July 7, Dinardo allegedly picked up Kratz, and they planned to rob Finocchiaro, the affidavit states. Patrick came with $800, and Dinardo told him he could sell him a shotgun for that price instead. Then on Wednesday, authorities arrested DiNardo on charges he tried to sell Meo's 1996 Nissan Maxima a day after he was last seen.
Police early on focused on DiNardo as a person of interest in the case of the missing men, after a signal from Finocchiaro's cellphone was traced to DiNardo's family farm.
At this point, court documents say, Meo was screaming in pain and Dinardo climbed into a backhoe and ran over the injured Meo, killing him.
After killing Finocchiaro, Sturgis and Meo, DiNardo and Kratz put their bodies into a large container - what DiNardo called a "pig roaster" - and burned them using gasoline, according to the affidavit.
Weintraub said the weapons used in the killings, the rifle and a.357 handgun belonging to Sandra DiNardo, Cosmo DiNardo's mother, were recovered in the deal. Dinardo and Kratz returned to the property the next afternoon and used the backhoe to dig a hole and bury Finocchiaro, Meo and Sturgis, the complaint says.
Weintraub said the bodies of Meo, Finocchiaro and Sturgis were found buried 12 feet deep in one common grave. Patrick's body was found in a separate grave late Thursday. Apparently DiNardo also sold guns.
Mazel Tov: Court Overturns Shelly Silver's Conviction
Silver was sentenced last May to 12 years, but had been allowed to stay out of prison while the case was on appeal. In its conclusion, the United States Court of Appeals for the Second Circuit in Manhattan cited a unanimous U.S.
The auto was found on another property owned by the DiNardos, but was still officially registered to Meo. But Kratz told police that Dinardo was the one who shot Finocchiaro.
In exchange for this admission, Dinardo hopes to be able to avoid the death penalty, according to his lawyer.
Patrick was shot to death by DiNardo on July 5 as the two were alone on the farm, prosecutors charge.
According to the Inquirer, Kratz was out on bail for separate charges for a pending theft case in Philadelphia. As DiNardo was led away in handcuffs, he said, "I'm sorry".
"We are not here to make moral judgments on any of their actions", Weintraub said Friday.
Dinardo and Kratz were apparently on the illicit trade of marijuana and firearms. They have a construction company and cement.
DiNardo was initially arrested on Monday on charges relating to illegal possession of a shotgun and ammunition.
Investigators say DiNardo is an admitted drug dealer with a history of mental illness, CBS2 reported.
Dinardo was released on bail on Tuesday when his father paid 10% of the $1 million bail in cash.
Cosmo Dinardo wrapped the body of Dean Finocchiaro in a blue tarp last Friday night and attempted to drag the victim out of his family's Bucks County barn until the tarp got stuck on a nail.