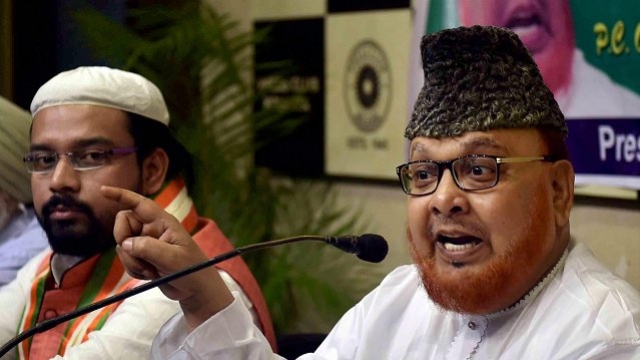 Earlier in afternoon, the trustee board of central Kolkata's Tipu Sultan Mosque officially declared to remove Maulana Barkati from the masjid's Imam post.
In the notice of termination presented by trustee board member Arif Ahmed at a presser here on Wednesday, it was stated despite being twice asked to provide explanation for his provocative remark the cleric had failed to respond indicating that the allegations against him were true.
"We have sent him a notice of termination and he has been asked to vacate the office room allotted to him".
The sacking comes two days after a police complaint was lodged against Barkati by the mosque's trustee board.
The notice added that Barkati also failed to respond to a show-cause notice as to why he should not be removed from the post of Imam, which indicated that he accepted the charges mentioned against him.
It warned Barkati that "appropriate action" would be taken against him if he chose to "violate any terms of the letter of termination". "Then give us Pakistan, we will fight for Pakistan", Barkati said. He was also show caused in March. "We had to take a decision to terminate him today as he did not rectify himself", Ahmed said.
Recently, it was reported that he fell out of favour with Bengal chief minister Mamata Banerjee, who was once one of his strongest supporters.
Daimler, Vivint Solar in exclusive deal on U.S. home batteries
That doesn't sound too bad, and if the price is right, Mercedes-Benz could certainly break into the energy scene here in the US. For now, Mercedes will leverage its partnership with Vivint to role out its rechargeable battery in California.
The controversial man known as the fatwa Imam was in the news for refusing to take out the Lal Batti or red beacon from his vehicle.
Imam is the second generation of his family that was created for administrating the Namaaz for the Royal Family.
Under pressure from the state government, Barkati was forced to take off the beacon from his vehicle on Saturday.
Several demonstrations were held by Muslims on Tuesday against Barkati's comments.
Barkati, who had always been in the political limelight and had sided with the Trinamool Congress had joined various meetings and rallies along with Mamata both before she became the chief minister and after.
Ahmed also described as "technically incorrect" Barkati's claims of being a "Shahi Imam".
"The trustee board has no right to remove an Imam because the Imam is chosen by the Muslim community". The Imam of Jama Masjid in Delhi was appointed by the Mughal dynasty. "Barkati can challenge us legally in Calcutta High Court", Ahmed said.