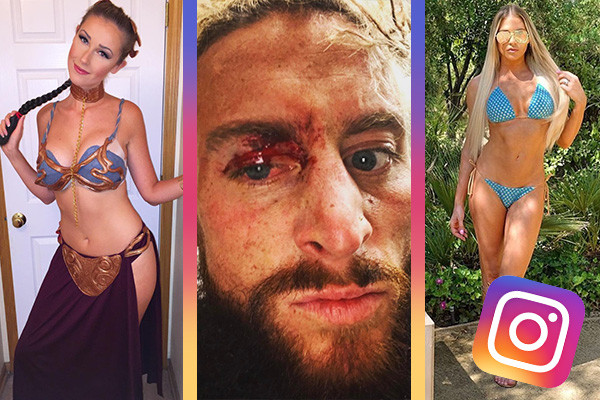 - Intercontinental Champion Dean Ambrose kicked off the show and he was interrupted by The Miz. With the Miz of course, as having Dean Ambrose as the only general manager was a bit too unpredictable as Stephanie McMahon explained.
So because Raw with Miz and Ambrose as GM looks a lot like any other Raw, Kalisto gets another match with Braun Strowman to pay him back for, you know, getting put in a dumpster and thrown off a stage. The Miz tried to use his GM status to disqualify Bálor, but Ambrose restarted the match and banned Maryse from ringside.
-Backstage, Miz baits Ambrose into accepting a match against Bray Wyatt later tonight.
- Backstage Alexa Bliss and Nia Jax become best friends and Jax says she still wants a shot at Alexa's title.
A brawl between Bliss & Bayley and James & Jax broke out after the match.
Even as the viewing numbers hit the skids, the superstars took to social media to offer their own extra content around the product, taking selfies, showing behind-the-scenes candids and definitely not posing with Roman Reigns in the Colosseum. After a bit of misdirection Braun beats Kalisto down, but it's a brief attack before Roman Reigns comes to the ring and the two start brawling.
Kristaps Porzingis: That Clippers tweet is mystery to me, too
Both Porzingis and Jackson still have not spoken while the Knicks president admitted that anyone on the roster could be traded. The Knicks have lost a total of 101 games in Porzingis' first two seasons in the National Basketball Association .
While most of Raw is made up of rather inconsequential matches, the Tag Team Turmoil to determine the #1 Contenders is fantastic.
Yup, Goldust and R-Truth may have set their sights on the RAW tag team championship, but they were no match for a very determined Cesaro and Sheamus who handed them a quick defeat, then proceeded to eliminate Enzo Amore and Big Cass, Heath Slater and Rhyno and Luke Gallows and Karl Anderson in succession.
Seth Rollins def. Samoa Joe by DQ when Joe smashed Rollins' face into an exposed turnbuckle. Samoa Joe continues the beatdown after the match.
The Boss and Alicia Fox had a score to settle after last week's RAW match ended in chaos between them, chaos which seemed to follow them into this rematch. During the match, Cruiserweight Champion Neville was on color commentary.
Backstage segment with The Miz and Ambrose arguing about being GM.